NCWorks Career Center-Statesville Helps Vietnam-Era Veteran Turn Their Employment Dreams Into Reality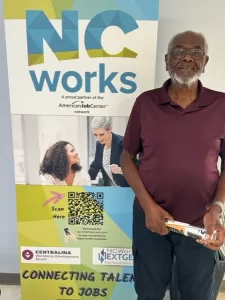 James Barnes, Veterans Service Representative at the NCWorks Career Center-Statesville, led by Annisa Morton, and the NCWorks Career Center-Mooresville, led by Jens Schmidt, has proven himself to be a beacon of dedicated service as evidenced by the heartwarming success story of Donavon Henderson.
Donavon Henderson, an 80-year-old Vietnam-Era Army veteran, had for many years thought about working with the US Postal Service (USPS) but had spent the majority of his life in the auto sales industry. Donavon had left this field in 2018 and had only briefly been employed delivering UPS packages since that time and was now in search of a new employment opportunity.
In December 2022, James Barnes met Donavon, when he noticed Donavon looking at a job fair sign in the parking lot of the NCWorks Career Center-Mooresville. He struck up a conversation and found out that Donavon was a Vietnam-era veteran who was looking for a job to keep himself busy. James quickly became a mentor to Donavon, guiding him through the Jobs for Veterans State Grant (JVSG) program, helping Donavon set goals, coaching him, refining his resume, and providing a steady stream of job referrals. As time passed, Donavon's desire to work for the US Postal Service became a clear goal.
The turning point arrived in February 2023 when Donavon attended a USPS job fair held at the NCWorks Career Center in Statesville. Subsequent USPS job fairs held at the NCWorks Career Centers further clarified the USPS application process and addressed his questions. Donavon's diligence and James's guidance eventually led to a pivotal meeting with the Salisbury Postmaster at the NCWorks Career Center Mooresville hiring event, resulting in Donavon's appointment as a Rural Carrier Associate on June 20, 2023. Donavon's transition into his role as a Rural Carrier Associate with the US Postal Service occurred seamlessly, and he joyfully reported, "I absolutely love it."
With appreciation, Donavon embraced his new role, adding a sense of purpose to his days and bolstering his financial stability. On multiple occasions, he has expressed gratitude for the services he received through the Centralina NCWorks Career Centers and the services provided to veterans.
The heartwarming success story of Donavon Henderson stands as a testament to the commitment the Centralina Workforce Development Board and our NCWorks Career Centers have to the Veterans in our region. The Board acknowledges the positive impact that can be achieved through compassionate mentorship. By aligning Donavon's aspirations with practical steps and guidance, NCWorks staffer James Barnes reinvigorated the purpose of a veteran who had dedicated his life to his country. The Board is proud of the efforts of the Centralina NCWorks Career Center teams and recognizes that their daily actions assist our customers in making dreams of a lifetime come true.
For more information on resources, opportunities, and successes, visit https://centralinaworkforce.com/. And be sure to download the FREE Centralina WDB Mobile App – available on the Google Play Store and the App Store for iPhone to keep up with all the local workforce services and events happening around the region.
Source: Centralina Workforce Development Board