Five Tips that Employers Can Use to Find Veteran Talent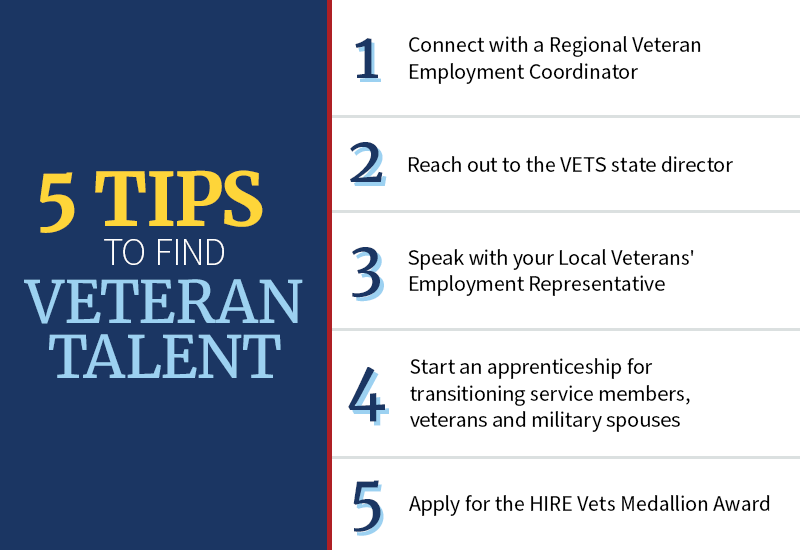 Is your organization looking to hire veteran talent?  The U.S. Department of Labor Veterans' Employment and Training Service can help. Here are five quick tips to help attract veterans to your organization.
#1: Connect with a Regional Veteran Employment Coordinator.
We have six Regional Veteran Employment Coordinators that work with employers across the country to facilitate veteran hiring. They meet with employers to identify their needs, help them develop an action plan, and connect them with federal, state and local resources. Whether you have a small local business or are part of a national conglomerate, our coordinators can share veteran hiring best practices so you can find the talent you need to help your business succeed.
#2: Reach out to the VETS State Director. 
We have staff members in every state. The state staff promotes relationships within the local community and can provide information on job fairs, hiring events, the Uniformed Services Employment and Reemployment Rights Act and more.
#3: Speak with your Local Veterans' Employment Representative.
The Department of Labor has more than 2,400 American Job Centers across the nation and many of them have staff that specializes in veterans' employment. Local Veterans' Employment Representatives can help you match the skills that you're looking for with veterans' resumes, post jobs, and even personally refer qualified veterans to you.
#4: Start an apprenticeship program for transitioning service members, veterans and military spouses.
Employers who want to recruit veterans can use a Registered Apprenticeship Program as a talent development model to attract, train and diversify their workforce. These programs help recruit a diverse and skilled workforce, reduce turnover and improve productivity. Registered Apprenticeship programs can be linked to DoD's SkillBridge program which enables employers to connect with separating service members, all at no cost.  
#5: Apply for the HIRE Vets Medallion Award. 
Each year the Secretary of Labor recognizes employers for their investments in recruiting, employing and retaining veterans through the HIRE Vets Medallion Award. It's the only federal-level veterans' employment award. Receiving the award demonstrates that your organization is committed to veteran hiring, retention and professional development. Visit HIREVets.gov to learn more.  
Find more ways to connect with veterans in the VETS Employer Guide to Hiring Veterans.
Source: Carolyn Renick is the Apprenticeship, Licensing and Credentialing Lead for the Veterans' Employment and Training Service at the U.S. Department of Labor.